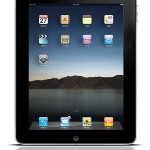 Today, Apple® announced that the Wi-Fi + 3G models of the iPad™ will be delivered on Friday, April 30 to US customers who've pre-ordered , and will be available in Apple retail stores the same day starting at 5:00 p.m.
iPad is available in Wi-Fi models in the US for a suggested retail price of $499 for 16GB, $599 for 32GB and $699 for 64GB. The Wi-Fi + 3G models will be available on April 30 in the US for a suggested retail price of $629 for 16GB, $729 for 32GB and $829 for 64GB. iPad is sold in the US through the Apple Store® (www.apple.com), Apple's retail stores, most Best Buy stores, select Apple Authorized Resellers and campus bookstores. AT&T is offering breakthrough 3G pre-paid data plans for iPad with easy, on-device activation and management.
Apple retail stores will offer a free Personal Setup service to every customer who buys an iPad at the store. US Apple retail stores are also hosting special iPad workshops to help customers learn more about its great new iPad product.