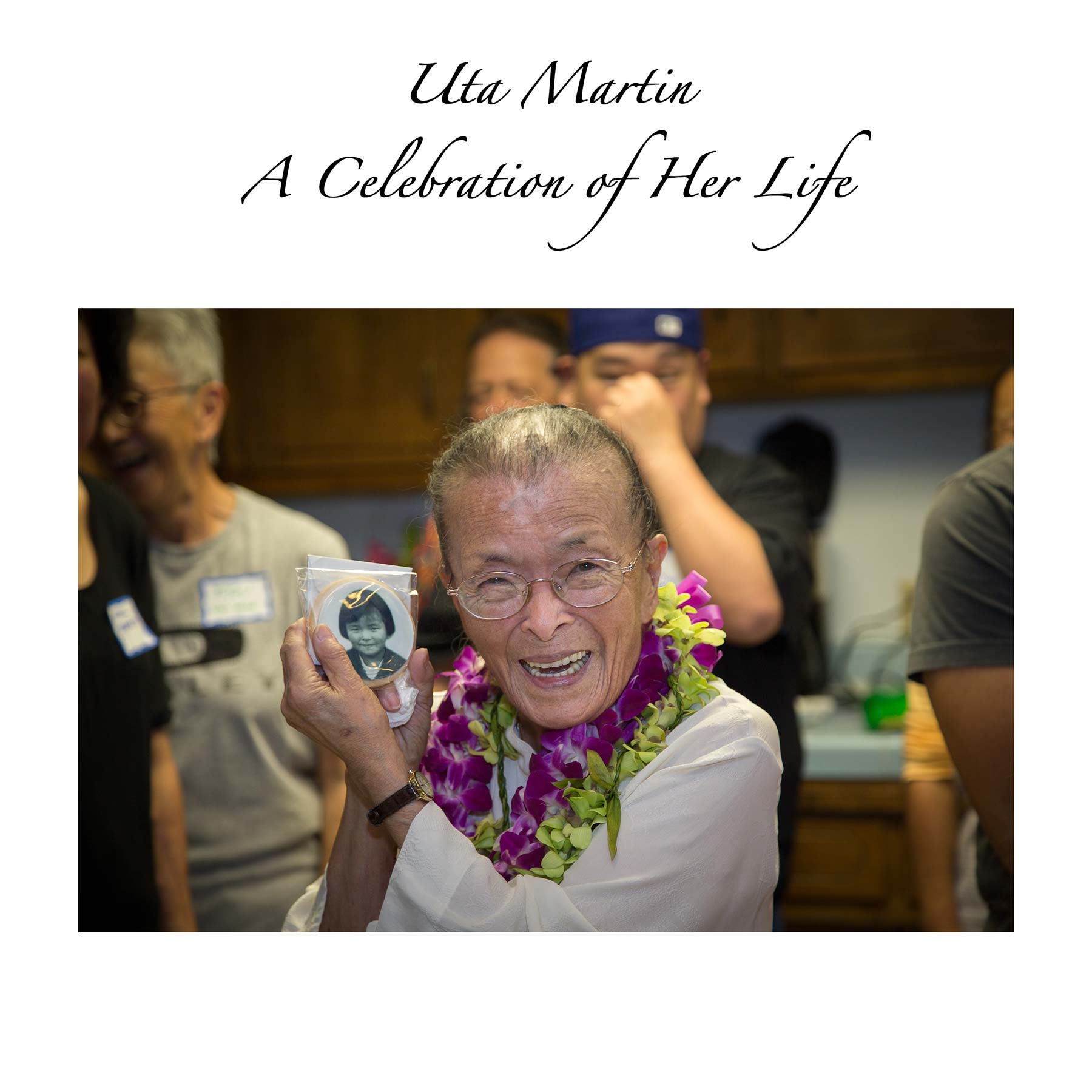 Some Sweet Thoughts of Uta
---
"Last night I folded a whole bunch of plastic bags in triangles just the way Auntie taught us."

"It also reminded me of the time we were at Uta and Harry's, and we had a game featuring precision drill teams brandishing plastic bags! Such good times. Such a big empty spot in all our hearts."
"I have so many thoughts I don't now where to start with all my memories. Uncle Bud and Aunt Uta were always so good to us…(Shhh, I know I was their favorite on this end!) When I'd go to see them, I would always reach down, pick her up gently to give her a hug. This went on for years. But on her big 90th birthday party with everyone there from both sides of the family, I found her in the crowd and with a nervous laugh from her, I picked her up for her big hug…then she tapped on my shoulder and said, "Okay, DeWayne, this is the last one." I said "Okay, Aunt Uta," then set her down gently. The look on everyone's faces was priceless."
" I loved listening to her, her supportive attitude towards different people, her good humor and bright spirit. I will treasure these memories for the rest of my life."

"Driving Miss Uta"; she was a real good sport. Her quick wit and youthful spirit did shine one summer evening driving her home in Keith's Magic Bus and being up to my suggestions of continuing the party at a karaoke bar in West Hollywood or heading to Las Vegas…"
"She was a role model of grace and charm combined with great determination and devotion to family."
"…we had so much fun on tour in Europe. Sang in the choir, tho, I was always off key and she carried on with her beautiful voice."
"We remember the time we were at the house on Sunset and all the New Year's day parties we shared with her."
"Thinking of her always brings smiles to our faces. What a bright spirit, so joyful. We will hold Uta's memory forever."
"We will always remember her sweet smile and nature. She was so kind and we 
enjoyed our visits with her. Her precious memory will always live in our hearts."
"She was one of a kind! Such an amazing and gracious lady."
"She was a very lively and fun lady, she will be missed."
"Laura (Menoher) and I drove her home to Apple Valley after a gathering and we took her shopping. She asked me to grab a carton of 18 eggs, and I asked, "are you going to have a party, and she said 'no, I eat a hard boiled egg every day!' I always thought maybe that was why she was so sharp, and maybe I needed to eat an egg every day."

"She lived a long and wonderful life with many stories to share, and I was so glad to have met her at the later part of her life to hear those stories."
"There is so much for us to remember of her but definitely her smile and laughter are at the top of the list."
"I'll never forget the first and next time I met Uta a year later at Betty's. My first meeting was brief as it could only be at Oshogatsu craziness. The next year I reintroduced myself saying 'I don't know if you remember me…' and she snapped 'Of course I remember you, Karen.' – then said something about me from the previous year's conversation…."

"She was irreplaceable.  What an amazing life and person…..she made the world brighter and we shine a bit less without her."
"Harry and Uta were (and still are) a huge influence on me, informing my life choices. I miss those Saturday game nights! Trivial Pursuit! Uta was tough competition. My memories of those days are so vivid and intense, they provide some comfort now. Uta was such an amazing person, tremendously talented and quite the trailblazer! And her laugh. She really was uniquely, well, unique. In the best possible way."
"Uta touched so many lives and was so loved by all of us who were fortunate to know her. She was especially very dear to me from the moment I met her and Harry in the late 70's as a participant in and later accompanist for Harry's voice classes. I so enjoyed our times together and will always cherish my memories of dear Uta."
"A river of life finally reaches its end, where it joins with the infinite sea and flows on forever, eternal and boundless and free. Thank you Uta. ¡Bueno!"