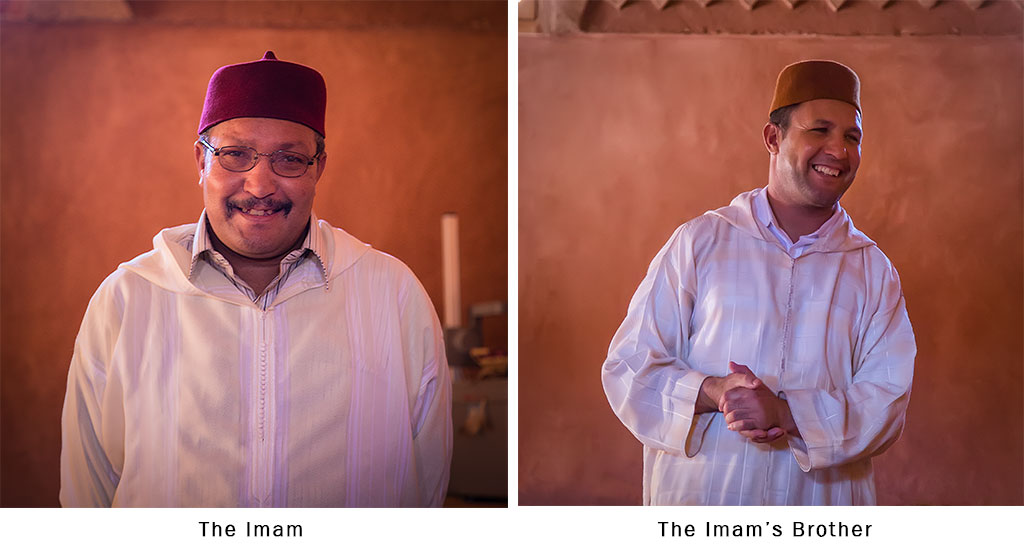 On our drive to Ouarzazate, we stopped in the small, primarily Berber, town of Kelaat M'Gouna where we ate lunch at the home of the local Imam, adjacent to the Mosque. His wife prepared our meal and his brother (studying to become an Imam) acted as the interpreter for the Imam.
We knew from our itinerary that we would have this opportunity to meet the Imam and, learn more about Berber culture and local wedding customs from him. We would also have an opportunity to ask him any questions we may have about Islamic practice and Berber culture.
I had waves of uncertainty in anticipation about meeting this person. And, this was the key to my recognition that because of the way Imams and Islam have been portrayed in our media, somewhere along the way, many of us have developed an inaccurate mental image of what Imam's may look and act like.
The Imam we met with, and who hosted our Moroccan lunch, was friendly, welcoming, kind, knowledgeable and funny. His brother was the same, radiating kindness. In the primarily Sunni Muslim country of Morocco, the Imam is selected by members of his community. He is knowledgeable, wise and knows and can recite the Quran accurately. As the local cleric, he leads the five daily prayers, serves as a community leader and provides religious guidance. It is also a title given, as an honor, to renowned scholars.
He discussed his role, performed a Moroccan Berber wedding for us (re-marrying an already married couple who were in our group), and answered our questions. It was a fun, interesting and educational few hours.